---
Whitetail Lodge
Hunt in comfort at our Alberta North River Outfitting lodge.
---
Our Alberta whitetail deer hunts take place in expansive boreal forest and some farmland. Most hunting takes place in the thick Alberta bush from elevated, heated blinds. These forested areas can stretch for tens of miles without any break. We typically hunt the bush and natural open areas. Our guides spend a great deal of time scouting each year.
The weather in our area can vary drastically based on the time of year. In early September, average highs are still in the 60s and lows in the 40s (Fahrenheit). By late November, average highs can be around freezing and lows in the teens or single digits. However, hunting takes place in heated blinds, so your exposure to the outside temperature will be very limited.
Our stands are custom built. We make them ourselves, right here in our shop. They are four foot square platforms mounted on 4 long steel pipe legs. They're very tough and won't break under heavy loads. The blinds are enclosed with a heavy canvas cover over a conduit pipe frame.  The enclosures have Velcro fasteners on the door and window flaps. A seat is installed on each platform, so you can remain seated and rotate to view.  The window "frame" makes an excellent rifle rest and there is plenty of room to position your rifle. Average shot distances from our blinds are from 100 yards and up.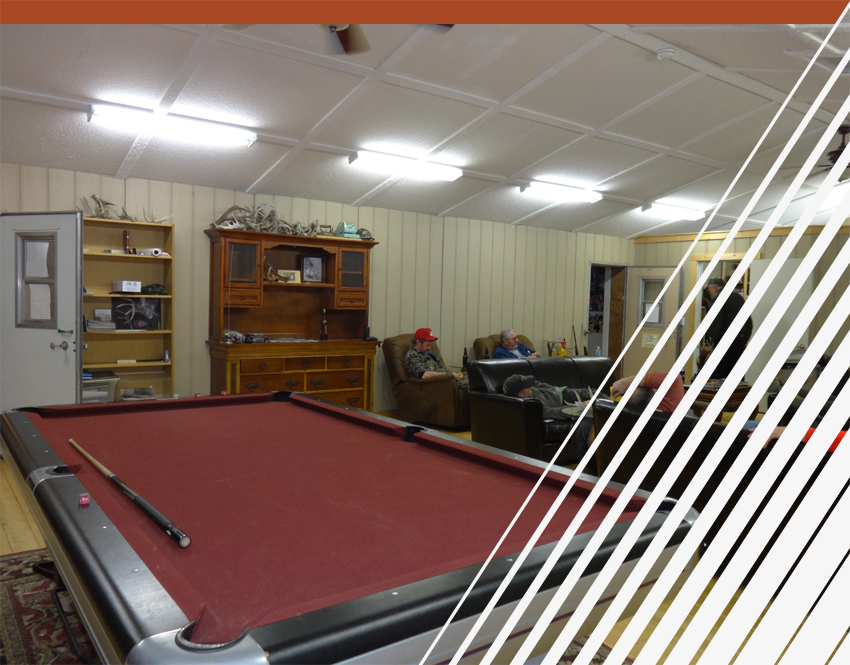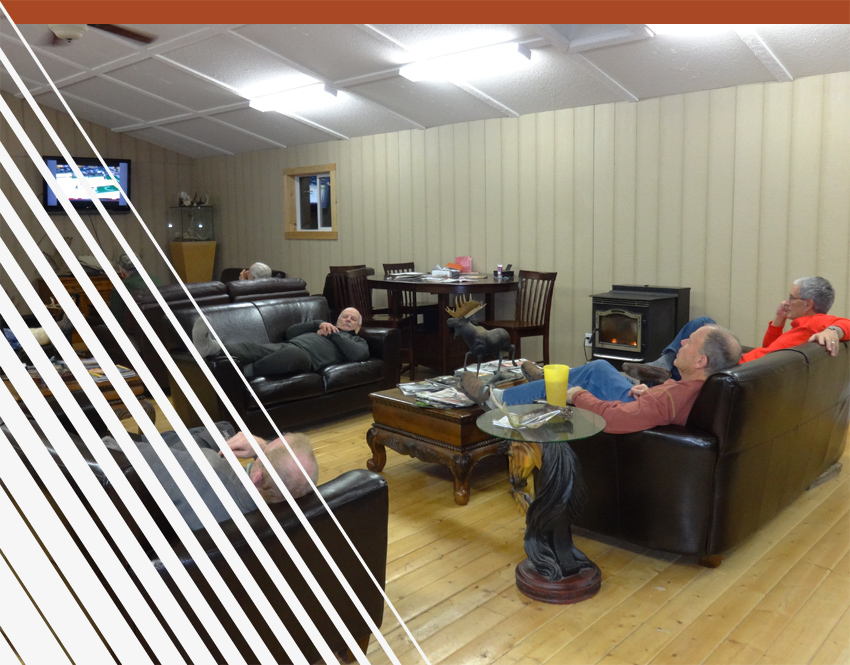 Small ~12,000 BTU propane heaters are connected to a 20 pound propane cylinder which hangs under the stand. Your guide will check your propane tank and provide a refill when needed. A little shot from the heater will knock the morning chill during the early deer seasons, and it provides plenty of heat with near continuous use for the late season hunters on very cold days.
Our Alberta whitetail hunting camp is complete with a full commercial kitchen and a 1,250 square foot recreation hall with a pool table, fireplace and couches. All bed and bath linens will be provided. Your hunt includes a hot breakfast and dinner. A lunch will be packed to take to your hunting area.
You can read more about the camp and hunting area. And please see our Dates and Prices page for specific information. If you have questions about our whitetail hunts, call us anytime at 780-675-1942 or contact us online.
---